Simple to Create
Imagine if you could read what friends and family had to say about your great great grandparents—or even if you could hear their voices!
Permanent Legacy® lets you give just such a gift to future generations. Our template-based memorial builder provides you with an easy way to create a lasting and meaningful memorial. You can select a fitting design and the sections that you want to include. You will then be guided in adding your personal material, such as photos and stories, to the site.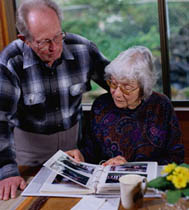 Your memorial may be as simple as a photograph and biography, but it can be as elaborate as you like. You can include anything from a gallery of photos to a home video or audio clip. And you can even invite friends and family to add their own tributes. It's up to you!
Our process is designed to make creating a memorial easy and rewarding for you. For those who have created websites before, you also have the option to develop a memorial on your own and simply upload it to a Permanent Legacy® memorial domain with non-expiring hosting and domain registration support. Please contact us for more information.